Ooops, so we've been super busy and have forgotten to update this section of the page, so that will change over the next month as we update and have some awesome new announcements!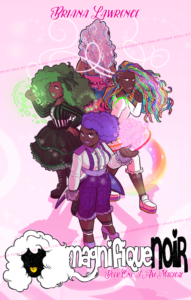 First off: The cover for MagnifiqueNOIR Book 1 has been revealed!  Thanks to the amazing Jenn St-Onge for this cover!  We can't wait until the book comes out in late July to see it in all the printed glory!
Don't forget you can still preorder the book here to make sure you get your copy as soon as it's out! 
Second: Our convention schedule!
We're super busy with conventions this summer, which means there will be more chances to see us!  Check the graphic below for where to find us when and don't forget you can always suggest us as guests to your local con if you want us to come to your area.

We have a lot more cosplay coming down the line and more items coming out on our Etsy store, plus Snow is now making Pixel Blankets for sale among other things.  Be on the look out for many more updates to each of the pages on our site!
Hope to see you all soon!